2018 WINNERS TOUR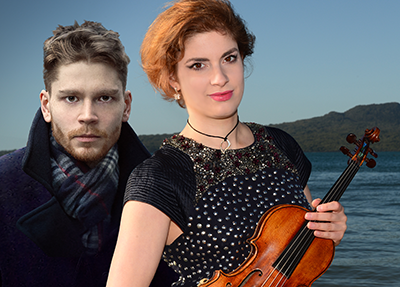 Jettison into the magnificent! The exalted musicianship of two glorious artists.
As the Southern Hemisphere bursts with spring, two of the world's most powerful young artists surge onto the stage for a 14-centre Australasian tour.
Winner of the 2017 Michael Hill International Violin Competition – Ioana Christina Goicea (Romania) and winner of the 2016 Sydney International Piano Competition – Andrey Gugnin (Russia) – will electrify audiences through Australia (Sydney and Melbourne) and New Zealand-wide for a month from 22 September.
Playing Enescu's Violin Sonata No 3, these two will navigate this haunting, romantic and lush piece for piano and violin.
They will also interpret Schubert's Rondo Brilliant in B Minor – regal and gentle, demanding virtuoso performances; and Brahms cadent Sonata No 3 in D Minor.
This is unmissable and unbeatable: two dramatic young artists on the cusp of international celebrity – your chance to see them both!
Tour Partners
Exceptional collegiality from our presenting partners.